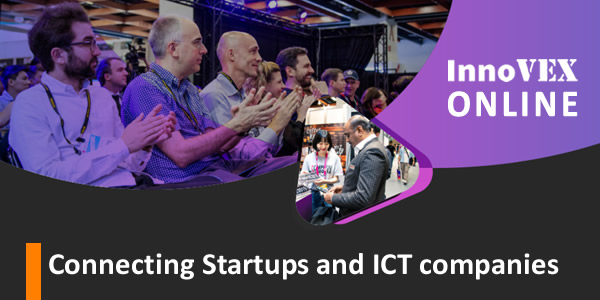 InnoVEX 2020 has been canceled due to the COVID-19 pandemic. Although the show has been canceled, the Taipei Computer Association (TCA), the organizer of COMPUTEX TAIPEI and InnoVEX, has launched InnoVEX ONLINE for global ICT industry startups. Startups can locate potential business partners via our online service – InnoVEX ONLINE. With InnoVEX ONLINE, startups not only get to showcase their products globally, but also connect with InnoVEX's global partners. InnoVEX Online provides comprehensive service at a low cost.


Heroic-Faith - Change the game of respiratory monitoring system!
Heroic-Faith, a unique Taiwan health/biotech startup rises up within the ranks as the Pandemic of COVID-19 spread across the global platform. Frank Wu, one of the founders of Heroic-Faith Medical Science and Raising Children Healthcare Foundation, believes in innovative technology as a methodology of assisting future clinical solutions.

#COVID-19 #ADA #ASA
GUZIP- Revolutionizing the Diagnostic Tool of Endometrial Cancer
Endometrial cancer is a type of cancer that is usually found in the endometrial lining of the womb, which is also one of the most common cancers among women. Incidences rates have been tremendously growing in good economy regions such as North America, Europe, and other western societies; but more recent cases has proven to be seen within the Asia-Pacific region as well.

#PCR #IVD #endometrial #womenhealth
BOVIA - Crimes beware! Crime-fighting just got upgraded by high-tech solutions!
BOVIA offers integrated high-end solutions with full technology stack for clients in public safety, retail and the industrial areas. From field devices, back-end and network solutions, client applications to video management system integrations for command and control rooms; in which BOVIA provide service in high quality, easy deployment and high operational reliability.

#wearablecameras #AI #surveillance #5G

14-day free trial of DottedSign Business Plan
DottedSign is the best e-signature solution for you to simplify your signing process when working remotely. You can sign documents and get signatures from both the Web and apps across all your devices.

InnoVEX,The Innovation Hub of ASIA
You received this newsletter because you have subscribed or participated in COMPUTEX TAIPEI & InnoVEX exhibitions and other international events in the past. Likewise, we acquired your email through those database providers from third parties.
If you want to unsubscribe, please click
REMOVE
to unsubscribe.
Email us: innovexonline@mail.computex.com.tw
Copyright © 2020 Taipei Computer Association. All rights reserved.